This rental home is currently not available.
Location: center of Tallahassee "old town", on Alachua Avenue, west side of Magnolia

Home is 4 Bedroom/ 2 Bath/1 Office, 3400sq ft, fireplace, furnished kitchen and washer/dryer, two large windowed porchs, hardwood floors, central heat and airconditioning. Perfect for large family or students from Florida State University or Tallahassee Community College, Florida Agricultural and Manufacturing Univ. or Barry Univ. Walk to kate sullivan grammar school, cobb middle school or leon highschool or trinity catholic.
Rent: 1850.00/mo.
Contact:

Leave message. or send EMAIL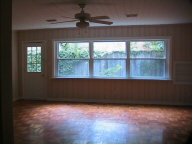 Back Room
Keywords:
Vacancy, available, vacant, Alachua Ave., 5 bed 2 bath, FSU, TCC, barry university, google, yahoo, aol, msn, real estate, search.